Posted May 15, 2020
Magnetic ToolMat from Master Magnetics
The new Magnetic ToolMat from Master Magnetics helps workers stay organized, work fast and be more productive.
---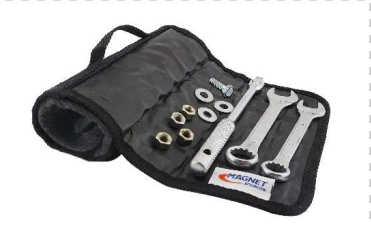 The Magnetic ToolMat is a flexible magnetic mat designed to securely hold tools and small parts while in the workshop, garage or on the jobsite.
Magnetic on both sides to attract to any flat or curved ferrous metal surface, it's a mobile tool rack that keeps your tools and parts with you as you work.
The Magnetic ToolMat includes the following features:
• Exceptional magnetic strength
• Reinforced grommets and sewn-in handle for mounting options and easy carrying
• Durable synthetic leather wipes clean easily and is resistant to damage, grease, oils and most common shop chemicals
In addition to holding tools, it keeps small parts grouped and organized for reassembly, adding speed and efficiency to all types of repair work.
The Magnetic ToolMat is ideal for professionals including machine shops, welders, manufacturing, facility maintenance, and contractors such as electricians, plumbers, HVAC, handyman and automotive, appliance and electronic equipment repair.