Posted August 4, 2021
Magnet Source Magnetic Sweepers
Magnetic floor sweepers are the right tool to safely and efficiently clear ferrous metal debris from areas of all sizes, both indoors and out.
---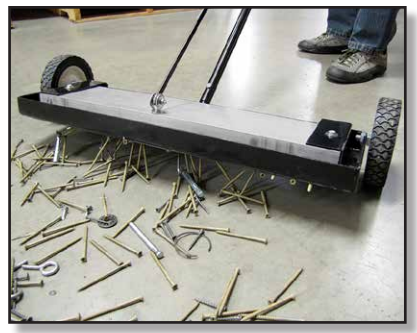 From the 13-inch-wide Mini Sweeper to the 96-inch-wide wide VersaSWEEP, the Magnet Source brand of magnetic sweepers from Master Magnetics offers the most complete line of sweepers for every size job, ensuring quality, efficiency, and durability.
For garages, workshops, factory aisles, parking lots, roads, and all sizes of areas in between, Master Magnetics offers push, mount, hang and tow-style sweepers to get the job done effectively.
Magnetic sweepers:
Reduce personal injury – loose or sharp debris on floors can lead to falls, cuts or puncture wounds
Prevent damage to property – nails or scrap metal in shops, work bays, warehouses and roadways can result in tire and vehicle damage
Faster clean-up – powerful magnetic sweepers quickly collect large quantities of metal items or scraps
Reclaim usable items – nails, screws and other metal components are easily retrieved and kept separate from other types of debris
Quick-release feature – safely and conveniently deposit the collected debris for easy disposal