Posted November 6, 2017
Mayhew Tools pneumatic body and panel tool set
Mayhew Tools announced the launch of a new pneumatic body and panel tool set.
---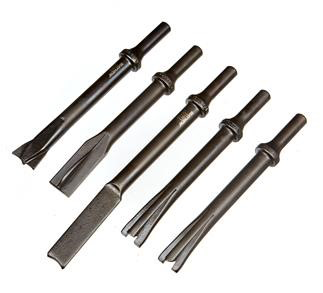 The set, made in the USA, includes five distinct pneumatic tools, each fulfilling a unique application for cutting, trimming, slitting, or ripping body panels, fenders, and any other light gauge sheet metal. All five tools are packaged in a self-contained, re-usable storage tray that fits most tool boxes.
All of the set's tools feature a standard .401 Turn-Type Parker Shank for air or zip guns. Each tool is made of shock-resistant steel that is fully hardened and tempered for a long life and durability, and have a black oxide finish to prevent corrosion. Backed by a lifetime warranty, the set saves technicians time by providing them with the tools they need when it comes to specific automotive applications.
The five tools comprising the new Pneumatic Body and Panel Set, part number 32027 include:
• 31956 Double Cut Body Ripper: A service tool with dual cutting edges, ideal for body, chassis, and exhaust applications.
• 31957 Panel Cutter: The unique design of this tool makes cutting a tight, smooth radius simple and is ideal for body, chassis, and exhaust applications.
• 31971 Panel Slitter: Featuring a bend of the blade, this tool slits through body panels with ease.
• 31958 Slotted Panel Cutter: Also ideal for body, chassis, and exhaust applications, this tool leaves a clean, smooth edge with the cut curling up through the slot in the middle.
• 31959 Sheet Metal Trimmer: When you need a light sheet metal without stretch or distortion, this sheet metal trimmer eliminates much of the touch-up grinding necessary with other trimmers.