Posted July 1, 2020
Mayhew introduces new face shield
Mayhew Steel Products announced production and availability of a new full-face safety shield.
---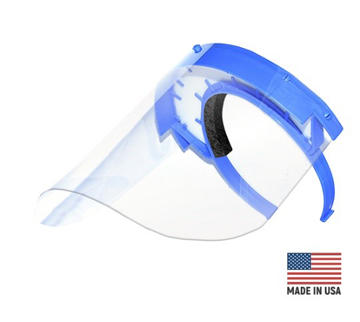 "Our company's legacy is founded on trust, reliability, and quality craftmanship," shared John Lawless, president, Mayhew Tools. "In our 160 years of business, we have become well-known for producing high-quality hand tools designed to stand the test of time. It's with that dedication to quality that we felt the need to extend our capabilities to be able to produce full-face shields that not only fill a void in the market, but successfully serve the users in need."
The full-face shields anti-fog design protects user's eyes, nose, and mouth from spray, splatter, dust, and other debris. The one-size fits most design is lightweight and durable with foam padding that provides enhanced user comfort. The shield itself allows for clear, maximum visibility while wearing it and can be easily washed or replaced.
The full-face shield, made in the USA, is available in a retail package of ten (Part No. FS201) and/or standard box of ten (Part No. FS202) or case of twenty-five (Part No. FS225).