Posted July 24, 2018
Mayhew Tools 6-piece ProGrip Trim Tools
Mayhew Tools announced a new 6 Piece ProGrip Trim Tool Set consisting of three U notch trim tools and three V notch trim tools.
---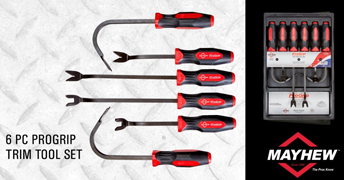 The complete set is designed to give users easy access into tight spaces. More specifically the U notch tools are ideal for removing window crank retaining clips and e-clips, while the V notch trim tools are able to quickly and efficiently pull apart trim, tacks, and staples from panels. Both the U and V notch tools can be used to take out flush mounted fasteners and the rolling head trim tools, offering a unique curve, are ideal for removing door panels.
Each of the trim tool tools included in the set are made in the USA, feature Mayhew Tools' signature ProGrip handle, and consist of an alloy steel shank with black oxide finish to deter rust. The ergonomic ProGrip handle, made of highly-resilient Polypropylene with an over-molded Thermoplastic Elastomer soft grip, has two patented ribs around its neck to allow for maximum transfer of torque from the hand to the tool and a slip-free grip when pushing or prying. Additionally, the rounded end rolls smoothly onto the heel of the palm, reducing friction and hand fatigue.
"This new set, inclusive of our most popular trim tools, provides users with an all-in-one solution for their specific removal applications," shared Eric Mills, VP Sales and Marketing, Mayhew Tools. "In addition to the breadth of trim tool features, i.e. varying U and V notches, the tools also provide the necessary leverage in close-quarters to position, retrieve, remove parts, or easily maneuver around obstacles that otherwise would be troublesome."