Posted June 11, 2019
Metabo HPT Cordless/Corded MultiVolt Table Saw
Metabo HPT (formerly Hitachi Power Tools) introduced the 10-inch MultiVolt Table Saw- model C3610DRJQ4.
---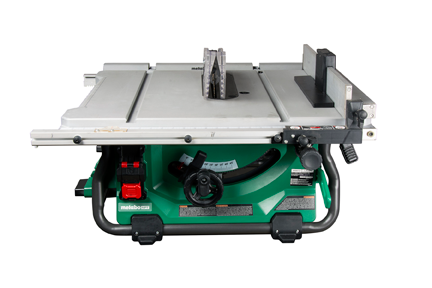 It's Cordless, It's Corded- It's BOTH! With its large table size and extended rip capacity, this saw from Metabo HPTs MultiVolt platform offers a solid tool for the jobsite.
Metabo HPT's MultiVolt cordless/corded platform meets the power output demand on a jobsite. MultiVolt tools can accept a 36V MultiVolt battery or plug into an outlet with the award-winning AC Adapter that can be used over long extension cords or from a generator with little to no power loss. This unique platform changes what's possible on the jobsite by offering the power of a corded tool, the freedom of a cordless platform and the choice to operate all MultiVolt tools cordless OR corded - YOU decide!
The C3610DRJQ4 table saw offers a working table size that measures 28-3/4 inches x 22 inches with an out-feed support of 28-3/4 inches x 2 inches for additional material support. With its telescoping table extension set up on the right, it can support a max of 35-in. rip capacity and 22-in. when set on the left for maximum flexibility.
It features a 36V DC Brushless motor with a soft start function that reduces noise and recoil at startup. It also offers an electric brake that halts the rotation of the blade within seconds for added safety. The 10" blade can bevel between 0° to 45° for cuts ranging from 3-1/8-in. (at 0°) to 2-1/4-in. (at 45°). Both the bevel scale and bevel height adjustment knobs for the blade are situated on the front of the cabinet for easy access and viewing.
The C3610DRJQ4 is also equipped with a ¾-in. T-slot miter gauge that features a large scale with adjustable positive stops at 0, 15, 30, 45, and 60 degrees to the left and right to help guide material accurately for a truer cut. It can take a dado stack up to 8 x 13/16-in. for simple dado cuts.