Lock Saver synthetic lubricant
Mil-Comm Products Company, maker of the Lock Saver family of high-performance, synthetic lubricant protectants, now offers its aerosol spray to the facility maintenance industry.
---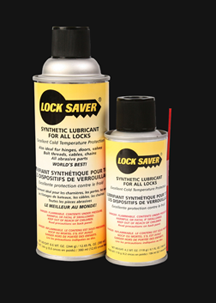 After two decades of supplying lubricants to defense industry customers, Mil-Comm's Lock Saver branded product was introduced to cater to the needs of the locksmith trade, only to find its way into the hands of maintenance workers at some of the largest government facilities.
Unlike most aerosol lubricants, Lock Saver is a grease, which leaves a light, dry-like film that leaves minimal buildup while delivering high performance features that address friction, wear, low temperature, corrosion and overall smooth performance, making hardware more reliable and long lasting.
Lock Saver is available in an aerosol spray can, as well as in solid grease or oil form in plastic syringes, along with the company's environmentally safe cleaner.