Posted September 25, 2019
Milwaukee introduces PPE line
Milwaukee Tool introduced a new line of personal safety solutions, which will include a range of hard hats, safety glasses, high visibility safety vests, respirators, and hearing protection, as well as an extension of its current glove offering.
---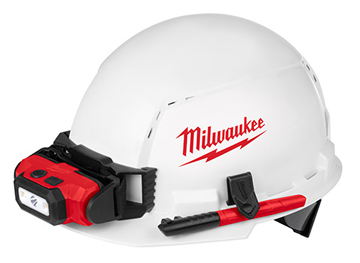 "We are always looking for ways to help our users get their work done faster and more efficiently, while keeping users safe. Appropriate personal protective equipment (PPE) is critical on jobsites, but many of the current solutions on the market have experienced very little change over time. Users have had only incremental improvements to solutions that already lack versatility, flexibility, and durability. This lack of innovation has led some users to resort to altering their jobsite protection to maximize productivity at the expense of safety," said Zach Richman, product manager for Milwaukee Tool. "Milwaukee intends to disrupt the personal safety market with solutions designed for the challenges users face and offer new features they've demanded for years."
Milwaukee strategically designed its new hard hats to adapt to the jobsite. The hats feature a BOLT Hard Hat Headlamp Mount that enables users to easily secure their headlamp to the front or back of their hard hat without having to strap it in. With this feature, users can utilize their headlamp and other accessories simultaneously. The hard hats also feature six total accessory slots—four BOLT accessory slots and two universal accessory slots, allowing users to customize their hard hat for the application. A ratcheting suspension lets users quickly adjust their hard hat. All hard hats are type 1 and offered in both Class C and Class E,* as well as full brim and front brim.