Posted January 3, 2018
REDSTICK Concrete Levels can screed, smooth and level
Milwaukee Tool introduced the REDSTICK Concrete Levels.
---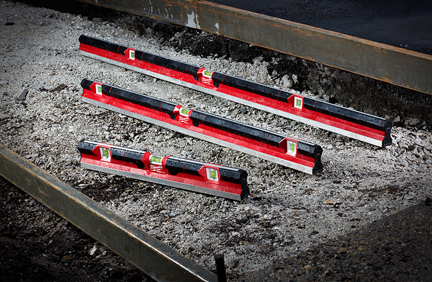 Built for concrete, the new levels offer an industry-first, 3-in-1 solution for a variety of screeding and smoothing applications with a magnesium base and overall design that is easy to clean after the messiest concrete jobs.
"The new REDSTICK Concrete Levels take a 3-tool operation down to one by allowing users to screed, smooth, and level with the same tool," said Ryan Schwoegler, group product manager. "A magnesium base features a 2" wide working surface with a rounded edge for smoothing and an angled edge optimized for screeding and striking. Once the job is done, the level can be easily wiped clean no matter how big the mess."
A magnesium core eliminates common frame deformations seen in box levels, ensuring these tools will last through the most demanding concrete jobs, Milwaukee says. The reinforced frame also creates a more secure and protected vial setting to protect accuracy and prevent damage or loosening.
The new Concrete Levels feature SHARPSITE Vial Technology. Black bands on the vials create high contrast edges that make the magnified bubble easier to read and deliver precision-grade accuracy especially when users need to easily find pitch of 1/8, 1/4, 1% and 2% during critical applications such as water run-off for sidewalks, driveways, and curbs.
Built to withstand challenging jobsite conditions, the SHARPSITE vials are engineered with high-impact acrylic which delivers 10X more durability than the standard competitive block vials and protects the accuracy over the life of the level.
To address situations when users need to screed and smooth in difficult positions, the new Concrete Levels has been designed with a unique ergonomic keyhole shape that is easy to use and control. A precision milled measuring surfaces on the bottom guarantees accuracy.