Milwaukee metalworking tools
Milwaukee Tool introduced several new metalworking tools.
---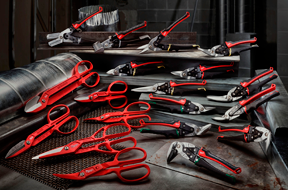 The new offering will consist of six new Tinner Snip models that include the industry's first Compound-Offset tinner snip, a 3" SPEED SEAMER and a 5-Blade HVAC Crimper for HVAC ductwork.
"These new products round out our best in class metal cutting snips lineup and provide a complete metalworking solution for the user," said Bobby Shaw, Director of Marketing for Milwaukee Tool.
The six new Tinner Snips are divided into three types: the industry's first Compound-Offset Tinner, Classic Tinners and Lightweight Tinners. Each with a unique set of features and benefits, the new line aims to increase productivity with features such as 40% larger handle loops that are much easier to use with commonly worn gloves.
The Compound-Offset Tinner Snips are designed for tough cuts and deliver 2X more force than the competition, the company said. Using a compound mechanism that amplifies the tool's force, the user is able to achieve easier cuts in tough metal materials – such as metal lathe – with less effort. In addition, the tool features 45-degree all-metal forged offset blades to keep the user's hands above the material while cutting, and BOLT-LOCK Technology so the blades will not loosen over time.
The Classic Tinner Snips will be available in 10", 12" and 16" for straight cuts, and a Duckbill model for tight radius cuts. Like the Compound-Offset tool, each of the Classic models will also feature BOLT-LOCK technology and all metal forged blades with up to 40% larger handle loops for easy use with gloves.
The Lightweight Tinner Snip is an aluminum bodied snip with replaceable blades. Milwaukee's solution features a best-in-class cut length of 3-1/2" and is ideal for long cuts in sheet metal or ductwork.
New metal forming solutions will include the 3" SPEED SEAMER and 5-Blade HVAC Crimper. Featuring a forged metal head and comfortable over-molded handles, the 3" SPEED SEAMER includes 3/8" and 1" markings on the head to quickly measure the most common folds in HVAC ductwork. The 5-Blade HVAC Crimper features reinforced crimper ribs, which provide greater blade stability, producing up to 2X longer tool life. The 3" SPEED SEAMER and 5-Blade HVAC Crimper are designed to be comfortable for both overhand and underhand use.