Posted July 25, 2017
Milwaukee High Torque Impact Wrench
Milwaukee Tool introduced the first complete replacement for pneumatic and corded impact wrenches - the next generation M18 FUEL High Torque Impact Wrenches.
---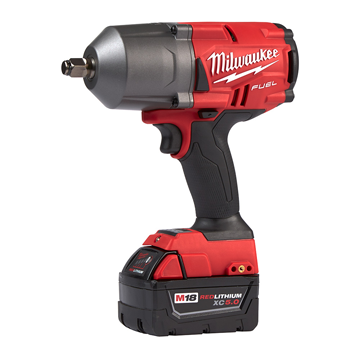 Delivering up to 1400 ft-lbs of Nut-Busting Torque, the new M18 FUEL High Torque Impact Wrenches are the industry's most powerful high torque impact wrenches, as well as the most compact, the company says. Capable of removing fasteners over 2X faster than the competition, the new tools outperform leading pneumatic, corded and cordless solutions today.
"In 2013, we introduced our first generation of FUEL™ High Torque Impact Wrenches which disrupted the market by being the first cordless solution that could replace all cordless and corded solutions, and a majority of pneumatic tools, for our users. However, certain applications like rusted and corroded fasteners still called for the performance of pneumatic. Our second generation M18 FUEL High Torque Impact Wrenches allow users to finally eliminate the hose or cord once and for all," said Eric Rusch, senior product manager for Milwaukee Tool. "By harnessing the extreme performance of M18 FUEL, we are able to deliver a solution that is powerful enough to replace pneumatic and corded altogether while being the most compact high torque impact wrench in the industry."
The new models include an M18 FUEL High Torque Impact Wrench with ½" Friction Ring and M18 FUEL High Torque Impact Wrench with ½" Pin Detent. Both are designed with a four-mode DRIVE CONTROL feature, providing the user with the versatility to switch between modes to match the power and speed to the application at hand. A new Bolt Removal Mode provides maximum nut-busting torque to remove the most stubborn bolts or nuts and, as soon as it senses the bolt or nut is broken free, the tool then shifts to 750RPM for unmatched control when removing fasteners.
At up to 0.7" shorter than other cordless high torque impact wrenches, and over 0.5" smaller than their Milwaukee predecessors, the new tools provide greater access in tight spaces. Similar to other M18 FUEL Impact Wrenches, these solutions have a specialized rubber overmold material that provides ultimate comfort during prolonged use while lasting longer against corrosive materials.