Milwaukee offers two new SDS Plus rotary hammers
Milwaukee Tool has added two new M18 FUEL models that will round out its SDS Plus rotary hammer line.
---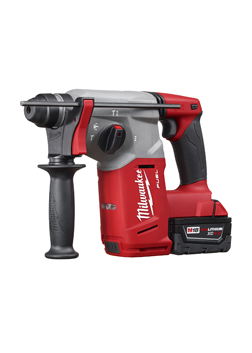 Milwaukee says the line delivers the market's first and only full SDS Plus solution powered by one battery system.
The SDS Plus rotary hammer market is divided into three product segments that satisfy varying user needs: compact, medium and large. The market is currently trending away from corded and into cordless, as users look for increased productivity. Manufacturers have developed tools for the compact segment on 12V-18V platforms and in the medium to large segments on 18V-36V platforms, but none offered the complete range of solutions on a single battery platform. The technology did not exist to use a single battery platform that was small enough for use on compact tools but powerful enough for medium and large tools.
"Users don't want to manage multiple battery platforms, it's a productivity killer," said Andrew Plowman, Director of Product Management for Milwaukee Tool. "By utilizing proprietary M18 and M18 FUEL technologies, we've developed a single battery system solution that meets the full range of user needs in each distinct SDS Plus rotary hammer market segment. Our full solution now includes a lightweight M18 5/8" for the compact segment, a M18 7/8" and M18 FUEL 1" for the medium segment which makes up the majority of the market, and an M18 FUEL 1-1/8" for the most demanding applications in the large segment."
The new M18 FUEL 1" and 1-1/8" SDS+ Rotary Hammers drill faster than their corded counterparts, are built with corded durability, and can deliver a full day of work on one charge.