Posted October 10, 2018
Milwaukee adds ONE-KEY functionality to M18 FUEL line
Milwaukee Tool announced that it's taking the performance of its new M18 FUEL Hammer Drill, Drill/Driver, and Impact Driver to the next level with the addition of ONE-KEY.
---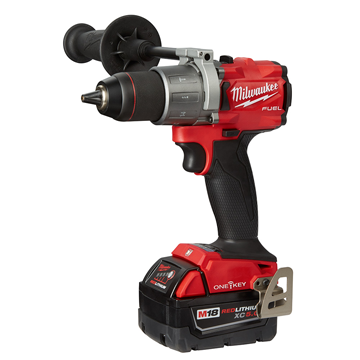 Through a ground-up redesign of the motor, mechanical, and electrical components of these core tools, these drilling and fastening solutions achieve 60% more power, are up to 2X faster, and are the most compact-sized solutions on the market. These newest additions include ONE-KEY functionality so users can also easily customize, track, and manage the tools through the app on their mobile device. Accessible within the app are a range of new features such as Anti-Kickback technology and a self-tapping screw mode that automatically shuts the tool off once a screw is seated.
"This summer we achieved the next breakthrough in drilling and fastening technology when we introduced the newest M18 FUEL Hammer Drill, Drill/Driver, and Impact Driver. These solutions feature a smaller yet powerful motor, more efficient electronics, and unmatched mechanical design that greatly reduces their size," said Cole Conrad, director of product marketing for Milwaukee Tool. "As advancements in technology have grown, so have the needs of many users for increased control over their tools' performance. By launching versions of our new M18 FUEL drilling and fastening solutions with ONE-KEY capability, we're providing these users with the ability to completely customize these tools for better control over power, speed, and consistency – as well as the ability to easily track and manage them in their inventory."
Through ONE-KEY, users can unlock an array of customization, tracking, and tool management functions.
ONE-KEY Tool Customization gives users access to a range of common task presets and features including Anti-Kickback and an improved Self-Tapping Screw Mode:
• Anti-Kickback Technology – Both the ONE-KEY enabled M18 FUEL Hammer Drill and Drill/Driver include this feature. The mode gives users increased control in bind-up situations, and they can adjust the sensitivity of the mode based on the application at hand. This provides users with more versatility and avoids the nuisance of dealing with shut-downs during certain applications. Additionally, users can choose to turn this mode on/off or adjust sensitivity depending on the job.
• Improved Self-Tapping Screw Mode – The ONE-KEY enabled M18 FUEL Impact Driver features the ability for users to select the steel gauge, screw length, diameter and head. Once set, the tool will automatically shut off once the screw is seated to reduce stripping of fasteners and damage to material.