Diamond Plus hole saws
Milwaukee Tool Corporation introduced new Diamond Plus Hole Saws that are engineered to stand up to the hardest, most abrasive materials on the jobsite.
---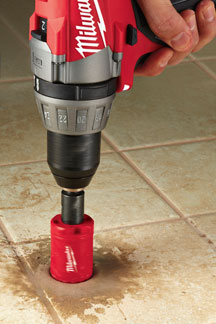 The new diamond grit hole saw range utilizes a higher grade of diamonds and heat-resistant braze to deliver best-in-class performance of up to 10X longer life.
"The use of hard tile and stone like porcelain and granite is growing at a rapid pace as many designers and architects are specifying them for their durability and versatility," says Ed Lau, Product Manager for Milwaukee Tool Corporation. "Because traditional glass and tile bits and carbide grit hole saws are not effective solutions in these hard materials, it was important for us to deliver a highly durable, long-lasting option that could get the job done quickly and easily."
Milwaukee's Diamond Plus hole saws provide a single solution for drilling anchor and clearance holes in abrasive materials including tile, stone, glass, brick, block, and cement backer board. The new offering will include 1-pc hole saws that range in diameter from 3/16" to 1", and Threaded Hole Saws that range in diameter from 7/8" to 2-1/2". Angle Grinder Adapters and Retractable Pilot Bits have been included in the line for added compatibility with common tools and to increase productivity.
Available in December 2013, the new Diamond Plus Hole Saws demonstrates Milwaukee's continued commitment to delivering innovative accessory solutions to save time and increase productivity on the jobsite.