Posted November 3, 2016
NOVA Voyager drill press
NOVA introduced its first drill press, the NOVA Voyager 18" Drill Press.
---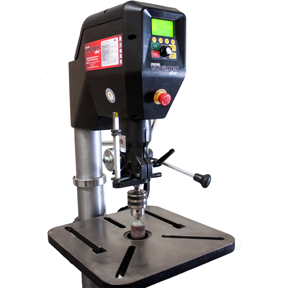 It features the DVR Smart Motor, the first perfected or practical Switch Reluctance Motor.
Basically, a drill press is a motor that drives a drill bit. For years, manufacturers have added features, such as larger tables, and laser guidance, but the heart of the drill press is the motor, and, to date, all attempts to improve the motor have failed. The Voyager DVR Drill Press has changed that and has revolutionized the category.
The NOVA Voyager Drill Press uses a 1.75hp (115V) DVR (Digital Variable Reluctance) Smart Motor (can be adapted easily to 220V 2hp) designed by DVR Technology Developments, Inc. It is a direct drive motor with no belts or pulleys, providing smooth, vibration free drilling. It also has no brushes, permanent magnets, or electrical connections to moving parts; and no current flow in the rotor, meaning less wear and longer life than an AC or DC motor. It also has the ability to turn on or off with no power spike, providing a low voltage start and no wear on the motor. The motor has an unmatched variable speed range of 50 to 5500 RPM – and enough torque to tackle any material including steel and other metals.
These features alone make NOVA's Voyager Drill Press stand out from the competition as not just a woodworking but an 'all purpose' drill press. However, it also features a powerful on-board CPU, taking the functionality and safety of this drill press to the next level and making it a truly innovative tool.
A user-friendly LCD screen allows the user to access a picture menu, a feature generally found only on CNC machines. The user can select the drill bit they want from the menu, then select the size and the material they are drilling into, and the computer will select the correct speed.
The Voyager Drill Press can be set to start when the user pulls down on the lever, and automatically stops when the quill is retracted. For zeroing, the user can bring the drill bit down to the work piece and simply press the zero button. The drill press now knows exactly where the work piece is. The drill depth can be dialed in to an accuracy of 0.05" increments – well beyond any ruler or mechanical stop capabilities. The user can select how deep to drill and what action the machine should take once reaching that depth, for example, brake and stop at a depth of 1.5-inches. All this – the correct speed, zero point and drilling depth – can be set in less than 30 seconds.
The drill press has a pilot-hole function that governs the speed of the drill until enough material is entered then ramps up to full speed. This eliminates the need for a pilot-hole drill and ensures a larger drill bit won't wander. It also makes drilling into a round or irregular surface easier.