NewAge polyurethane tubing
NewAge Industries manufactures three versions of polyurethane tubing: unreinforced, braid reinforced and a style designed for pneumatic applications.
---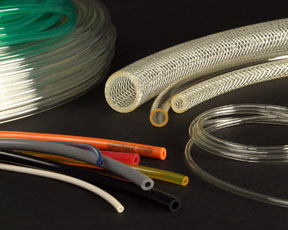 All three offer the traits polyurethane is known for, namely durability, natural flexibility, excellent weathering characteristics and good chemical resistance. Typical uses include air and liquid transfer, granular material and abrasive powder lines, cable jacketing, insulation sleeves, and petroleum product transfer.
Polyurethane, also known as PU or PUR, combines properties of both plastic and rubber. It blends abrasion and tear resistance, plus high tensile values, with nearly unlimited flexural abilities and low compression set. What sets polyurethane apart from other thermoplastics is its chemical resistance combined with its superior weatherability. Additionally NewAge's polyurethane tubing products:
Offer cold temperature flexibility approaching 90°F ( 67°C)

Are made without plasticizers (ingredients added to compounds to increase flexibility; plasticizers can leach out of the tubing and contaminate the flow)

Resist most gasolines, oils, kerosene, and other petroleum-based chemicals

Provide more pressure and vacuum resistance than corresponding sizes of PVC or rubber

Can be heat formed into shapes to fit with or around machinery