NewAge Industries celebrates 40 years of poly tubing
Tubing and hose manufacturer NewAge Industries announced that its durable polyurethane tubing and reinforced hose are now 40 years old.
---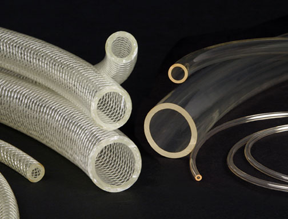 Introduced in 1975, Superthane tubing and Urebrade hose have been used in numerous industries for fluid flow, gas transfer and protective jacketing.
Because of its natural flexibility and oil resistance, Superthane quickly found use in applications such as fuel and grease lines, oxygen transfer, control instrumentation, robotics and cable jacketing. Those uses still apply after four decades.
Urebrade, the company's braid reinforced version of the product, was launched at the same time. It performs similarly but with the added ability to handle higher pressure applications. It, too, manages petroleum product transfer, air and gas conveyance and protective coverings, as well as low-pressure hydraulics, slurries and granular transfer.
"These two items have always been major product lines for NewAge," stated Ken Baker, CEO of the 60-year-old corporation. "Polyurethane is unique because it offers some of the best qualities of plastic and of rubber, making Superthane and Urebrade problem solvers for a lot of applications."
Polyurethane provides abrasion and tear resistance, high tensile and elongation values, and low compression set. It is naturally flexible and exhibits virtually unlimited flexural abilities. Additionally, polyurethane combines good chemical resistance with excellent weathering characteristics, setting it apart from most other thermoplastics.
Manufactured at the company's headquarters in Southampton, Pennsylvania, Superthane is stocked in both ether and ester formulations; Urebrade is available in ether formulation. Both products offer:
Non-toxic ingredients conforming to FDA standards
Transparency, flexibility, durability
Resistance to weathering, tearing, impact, radiation and abrasion
A wide range of temperature resistance: -85°F to 185°F (ester), to 175°F (ether)
Ether-based raw material is listed by the National Sanitation Foundation (NSF 61) for use with potable water
No plasticizer which could cause flow contamination or tube hardening
RoHS compliant; conflict mineral free
Ester-based material is also REACH compliant
Visit here for information on polyurethane tubing or polyurethane hose.