Posted October 31, 2017
Newcastle Systems Atlas Series Mobile Dimensioning Workstations
Newcastle Systems announced its latest product line – The Atlas Series Mobile Dimensioning Workstations – enabling quick and accurate dimensioning.
---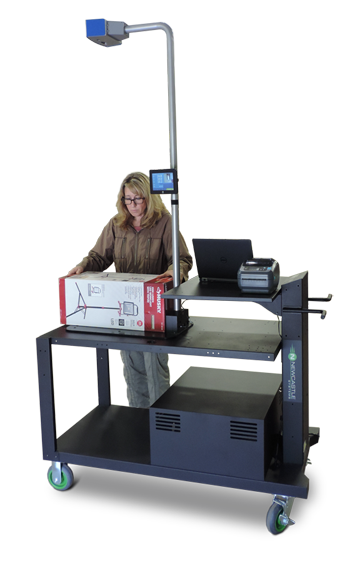 Each workstation is equipped with a QubeVu DimStation, which includes supporting pole and integrated display providing dimensioning on virtually any shape, anywhere in under a second. The rugged Atlas Series consists of 30-inch and 48-inch long workstations that hold and power the QubeVu DimStation and other hardware including scales, laptops, thin clients, CPUs and printers. The workstations can also accommodate most other dimensioning units on the market.
"The rise of e-commerce sales and the recent transition by major 3PLs like FedEx, UPS, and DHL to new dimensional weight-based pricing models, have put tremendous pressure on warehouses and distribution centers across the country to enhance efficiencies," Newcastle Systems Vice President Derek Coppinger said. "New solutions, such as The Atlas Series Mobile Dimensioning Workstations, will help organizations handle large product volumes, trim costs and, in turn, generate higher savings and revenues."
The dimensioning stations allow warehouses and distribution centers to easily manage extreme volume in a quick and accurate fashion, even during seasonal peaks. Warehouse staff can dimension directly at the product location, which increases productivity by up to 50 percent because costly steps and motion have been eliminated. It also reduces operator fatigue and potential injury as staff members are no longer carrying or moving parcels to a fixed station.
The Atlas Series Mobile Dimensioning Stations with QubeVu DimStation quickly captures data so warehouse staff can identify the best packaging solutions, optimize warehouse space and maximize truck/trailer loads. Dimensioning lets warehouses predict shipping costs with much greater accuracy, and collect the right money for the right package – before it's too late.
Dimensioning also provides the data a warehouse needs to enable direct-to-box picking. This method is estimated to reduce pick time by as much as 10 percent. For a company that ships 100 packages a day, this equates to an increase in revenue of $37,500 a year.