Posted March 19, 2019
Newcastle Systems QC Series Mobile Powered Workstation
Newcastle Systems, a provider of mobile-powered workplace solutions designed to make warehouses more efficient, announced its latest product, the QC Series Mobile Powered Workstation.
---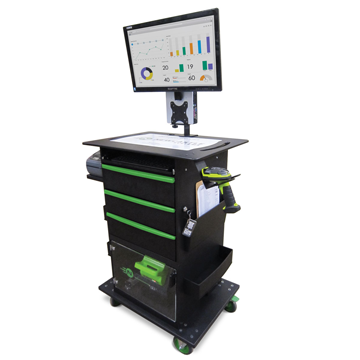 The workplace mobility solution reduces costly worker motion, product transportation and touches on the manufacturing or warehouse floor, resulting in significant productivity gains.
"Our latest innovation, the QC Series will benefit organizations looking to streamline their quality testing procedure," said John Kelly, Newcastle CEO. Quality is vital to success on the floor, our main intention was to engineer a lasting solution that will add to the overall efficiency and help companies get quality product out the door faster."
The QC Series Mobile Powered Workstation is designed specifically for quality testing and other processes requiring vast storage capabilities. The cart allows QA testing to be performed right at the product location on the manufacturing floor without stopping production. The enhanced storage space within the cart, ideal for tools, calipers, and other testing/inspection devices, cuts time wasted walking across the floor for supplies and materials during testing.
The integrated power system in the workstation allows facilities to go wireless, powering laptops, tablets, thermal printers, scanners, test equipment and other items that will help assemblers and workers on the floor conduct their tasks in a more efficient manner. Newcastle's latest solution comes standard (1) lockable storage drawer (holds up to 3), document holder, side storage pocket, power system cabinet and waste basket. Optional accessories such as LCD holder, keyboard tray, printer shelf and scanner holder are also available and easily integrated. Associates can perform testing without the hassle of cords, paper, or costly wasted motion, getting the product out the door faster.
The mobile workstation is 42" in height and 29" in width, allowing for easy movement throughout the manufacturing or warehouse floor. The unit is made of extremely hard plastic (HDPE) that allows for easy wipe down. The top shelf can handle up to 70 pounds for placement of any tools, hardware or products for seamless transportation.
In addition to quality testing, the QC Series can be used for on-demand label printing/scanning, asset tracking, maintenance, operational training, electronic work instruction, supervisor floor station and for controlling software platforms such as ERP, WMS and MES on-the-go, and wherever needed.