EZ Wipes from Nissen Markers
EZ Wipes remove most permanent markers, grease, oil, lubricants and other contaminants from a variety of surfaces.
---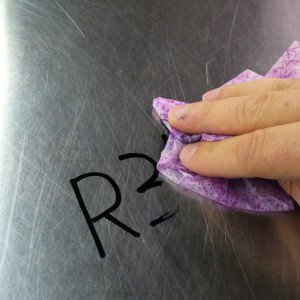 The industrial strength cleaning wipe will remove most permanent paint and ink marks.
Ideal for preparing metal surfaces for welding, braising and marking. Lint- and residue-free, it will not contaminate welds. EZ Wipes are 100% green and non-hazardous.
Using the abrasive side, thoroughly rub the surface to be cleaned using repetitive wiping motions. Then, using the smooth side, re-wipe the surface to remove any hidden blemishes.