Oil Eater Universal Pads and Rolls
New Oil Eater Universal Pads and Rolls are the economic solution for the widest
variety of spill control and clean-up situations, such as machinery leaks in hard-to-reach places.
---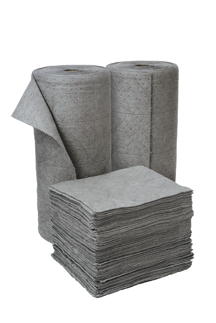 Sonic Bonded Pads tear easily along their perforated seam to fit almost any space.
They are constructed from a single layer of high-quality uniform polypropylene fibers
that have been bonded together using a unique high-loft process providing superior strength.
Fine Fiber Multi-Layer pads are designed to deliver the least amount of linting. Small
diameter, densely woven outer layers keep lint away from internal parts while the high-
loft meltblown core pulls in oils and other fluids. These three-layer pads are made from the highest quality polypropylene.
The line is available in a variety of weights in sizes from 15-in. by 18-in. pads to 30-in. by 150-ft. rolls.