Osborn ceramic filament ATB brushes
Osborn introduced a new line of ceramic filament ATB products.
---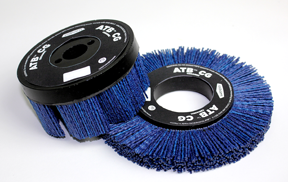 Designed for use on plastic to high-temperature alloys used in aerospace and high-technology industries where precision deburring is required, the new ceramic ATB line of brushes incorporate ceramic filaments. Ceramic filament brushes are a proven problem solver for titanium turbine engine components.
ATB ceramic brushes diminish burrs on the toughest materials. Their innovative design allows for faster run times, higher output and precision deburring and polishing.
The new ceramic filament ATB line includes:
Master wheels
Aggressive composite wheels
Flexible composite wheels
Ringlocks
Uni-lock max disc brushes
Uni-lock turbo disc brushes
Bridled end brushes
Uni-lock quick change tools
"The new line of ATB ceramic brushes enable manufacturers to be innovative and competitive," said Jeff Naymik, marketing manager at Osborn. "This line addition is proof that no matter what metal finishing issue you have, Osborn has a solution for it."
Ceramic ATB solutions are ideal for use in a variety of applications in automobile production and engine building as well as other industries. The new line has brushes suited for almost any application including deburring, edge breaking, cleaning, finishing, polishing and a variety of other industry-specific applications.