Osborn knotted-wire cup brush
Osborn introduced its redesigned, high-speed, knotted-wire cup brush.
---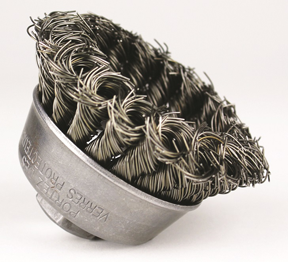 The improved brush features a taller inner cup that forces the brush to be used on the filament tips, rather than bending. Featuring the highest quality AB wire in the industry, threaded-nut connection and aggressive knot style, the redesigned cup brush offers premium performance.
"This new design on Osborn's popular cup brush forces the brush to be used on the tips of the knotted filaments, preventing bending and providing improved performance," said Mark Johnson, vice president of sales and marketing at Osborn. "In-house testing in our brush lab showed excellent results and we're happy to provide a stronger product to Osborn customers."
Osborn's knotted-wire cup brushes are rugged and efficient tools for heavy-duty cleaning of metal surfaces. They are specially designed for use on portable tools and filled with steel-wire filament for rigorous applications.