Posted April 11, 2017
PFERD TITANIUM cut burs
PFERD INC. has introduced TITANIUM cut burs, the latest addition to its high-performance Carbide Bur line-up.
---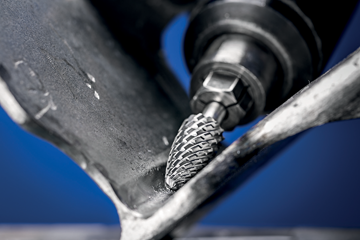 TITANIUM cut is specially designed for machining hard titanium alloys (with tensile strength greater than 500 N/mm2). With an innovative tooth geometry, TITANIUM cut generates stock removal rates up to 60% higher than conventional cross-cut burs. This results in a smooth milling action with significantly reduced vibrations and noise for comfortable, ergonomic working conditions. TITANIUM cut's superior surface finish and higher metal removal rates also results in longer tool life and reduced labor costs.
These high performance, double-cut burs with facet and chip breaker generate large, easy to handle chips. Suitable for electric or pneumatic straight grinders and automated equipment, they are finding ready acceptance in the aerospace and defense industries. Applications include milling, chamfering, contouring and weld dressing. And in a variety of other applications including work with structural components, thin-walled tubing in chemical processing and with components requiring extremely high corrosion
resistance.
TITANIUM cut burs have a recommended cutting speed range of 850 - 1,500 SFPM. They are available in cutting head diameters of 3/8 in. with a 2-1/2 in. length and ½ in. dia. with a 2-3/4 in. length). Both have a shank diameter of ¼ in. Rotational speed is up to 14,000 RPM for the 3/8 in. model and 12,000 RPM for the ½ in. dia. size.