Posted May 3, 2017
PFERD COMBICLICK quick-change disc system
The patented COMBICLICK quick-change disc system from PFERD provides lower workpiece temperature while improving both stock removal and disc life.
---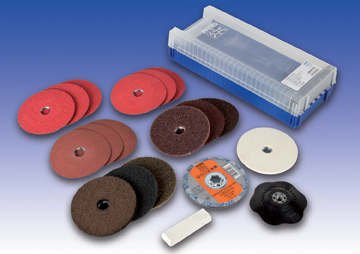 Designed for use with coated abrasive, non-woven and felt discs, the COMBICLICK system consists of a specially developed backing pad with an innovative locking mechanism. The threaded backing pad allows COMBICLICK discs to be used on most available angle grinders.
The special geometry of the cooling slots ensures a high throughput of air, thus significantly reducing the thermal load on the abrasive material and workpiece. This optimized cooling, together with the quick-mounting system, rugged fixture, and secure attachment of the disc allow COMBICLICK to provide up to 30% lower workpiece temperature, up to 25% increased stock removal, and up to 30% longer disc life.
The extensive range of COMBICLICK fiber discs provides the optimal product for any grinding application. PFERD offers fiber discs with various grit sizes, abrasives, and diameters of 4, 4-1/2, 5, and 7-inches, depending on the disc type. Applications include working on weld seams, deburring of steel components, rough grinding, fine grinding of stainless steel (INOX) components, removal of mill and casting skins, and working on narrow, hard to reach areas such as cooling ribs.
Varieties of COMBICLICK discs include fiber discs available in ceramic (CO) and aluminum oxide (AO), zirconia alumina (Z), silicon carbide (SiC), and COOL versions with active additives to prevent loading reducing heat build-up; non-woven unitized discs in hard through-soft types for use in face-down grinding on variable speed angle grinders; and felt discs for pre-polishing and high-gloss polishing. COMBICLICK backing pads permit the use of COMBICLICK discs on all common angle grinders. Plus, the patented mounting system minimizes disc changing time. The backing pads, like the discs, come in 4, 4-1/2, 5, and 7-inch sizes.
COMBICLICK kits offer a convenient way to get started with the system. A wide variety of coated and non-woven materials are included to test performance and surface finish results to help determine the ideal product selections for the customer's applications prior to bulk purchases. The included discs provide solutions for rough grinding, fine grinding, surface conditioning, pre-polish and polishing to a mirror finish.