PFERD CC-GRIND-SOLID
PFERD's CC-GRIND-SOLID removes twice as much material per minute compared with conventional grinding wheels.
---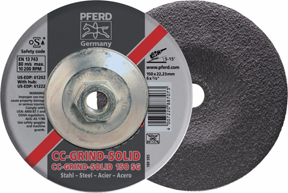 This lowers operating costs and increases productivity. It can be used for surface grinding, weld removal and all common grinding applications.
Along with versatility and performance gain, CC-GRIND-SOLID reduces dust emissions, noise and vibration by 50% or more, making it the most operator friendly grinding tool on the market.
The CC-GRIND-SOLID is flexible which creates a large surface contact area for reduced risk of gouging the work piece.
New for 2015, the CC-GRIND-SOLID for Steel is available for 4" and 6' angle grinders. The CC-GRIND-SOLID is also available for Steel or Stainless in 4-1/2", 5" and 7". 5/8-11 quick-change hub available.