Protective Industrial Products launched two new gloves
Protective Industrial Products (PIP) and DSM Dyneema have partnered together to launch a line of cut resistant gloves using the new Dyneema Diamond Fiber Technology.
---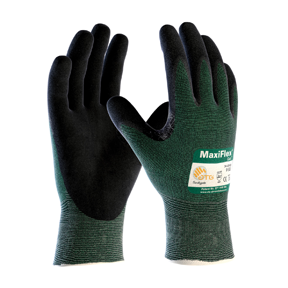 Twice as strong as standard Dyneema, PIP's new G-Tek 3GX line of cut resistant gloves will offer customers higher cut scores at the same price. "That's real innovation," said Joe Milot, president of PIP. "It's not enough to just make it better – customers want the innovation without the inflation," he added.
"By embedding micro particles in each fiber, we've been able to dramatically increase the fiber strength without increasing its size," explained Matt Reid, DSM Dyneema marketing manager. The new G-Tek 3GX line of cut resistant gloves are now available to all PIP distributors and are currently in use at major U.S. companies in the automotive and electro-mechanical sectors.
Additionally, PIP, together with its 20-year exclusive partner ATG, has launched the new MaxiFlex Cut line of products. The Maxiflex Ultimate 34-874 is available with an EN Cut Level 3. Same outstanding properties in comfort, breathability, flexibility, dexterity and tactile sensitivity – but with cut resistance as well. Included with this new offering of the Maxiflex Cut products are styles coated with oil-resistant nitrile in three-quarter dip and reinforced dots for enhanced durability in heavy duty, repetitive applications.
"Every day our customers turn to PIP as the leader in Cut Protection to solve their hand protection problems. G-Tek 3GX and the MaxiFlex Cut product lines are only the beginning of a string of PIP innovations that will take cut protection to the next level," concluded Joe Milot at a recent meeting with key customers.