Parker SensoControl Diagnostic Serviceman Plus
Parker Hannifin Corporation introduced the new SensoControl Diagnostic Serviceman Plus.
---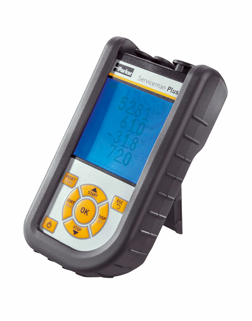 The robust, easy-to-use hand-held meter that provides portable maintenance and diagnostic data for hydraulics and pneumatics.
Serviceman Plus features Parker's "Plug and Play" automatic sensor recognition that immediately scales the measurement range, eliminating confusing and time-consuming setup routines.
With a scan rate of 1 ms and the ability to measure pressure, flow, temperature, and RPM (rotations per minute), Serviceman Plus is versatile for use with mobile and industrial systems.The meter was designed to aid in the diagnostics and troubleshooting of everyday hydraulic and pneumatic problems commonly found on equipment in the following industries: power generation and renewable energy, off-highway construction, agriculture, military, industrial, and other heavy-duty equipment.
All measurements captured on the Serviceman Plus hand-held meter can be stored on a nano USB drive, or transferred to a PC for convenient analysis and documentation using the SensoWin software provided with the meter.
Other features of Parker's Serviceman Plus include a robust design with an oil-resistant rubber protective cover for use in harsh or challenging conditions; IP67-rated protection in extreme conditions; large back-lit display for easy, quick readings in low light; rear panel integrated support for free-standing operation; intuitive operation; and MIN/MAX memory and differential measurements. With a small dimension of 4" x 7" x 2" including the protective cover, the lightweight diagnostic meter operates on a rechargeable 3.7-volt lithium ion battery.
Parker's Quick Couplings Division sells the Serviceman Plus. According to Business Unit Manager Mario Calvo, "Serviceman Plus is a real advancement for maintenance and diagnostics in mobile and stationary hydraulic and pneumatic applications." Calvo went on to note, "The small size, light weight, backlit display, rugged design, and 'Plug and Play' automatic sensor recognition designed into the Serviceman Plus make for quick, accurate readings, even in the most extreme conditions."
Two versions of the Serviceman Plus are available: an analog version with two analog inputs, and a CAN version that supports up to three CAN sensors at one time.