Posted July 31, 2017
Permatex Industrial Strength Cleaner & Degreaser
Permatex launched a new parts cleaner and degreaser that features an advanced biodegradable formulation.
---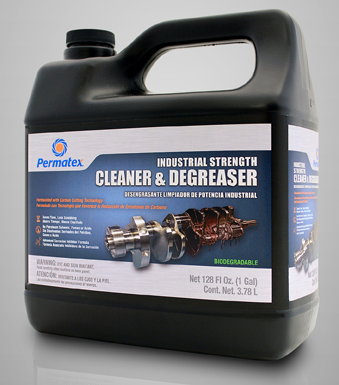 Permatex Industrial Strength Cleaner & Degreaser, P/N 12546, incorporates new innovative Carbon-Cutting Technology that completely removes tough carbon, oil, and grease without the need for petroleum solvents, abrasives, or acids.
Permatex Industrial Strength Cleaner & Degreaser delivers tough cleaning performance with less scrubbing effort and uses a proprietary corrosion inhibiting formula that prevents flash rusting and leaves a clean surface. The cleaner is non-flammable and does not generate fumes. It is safe to use, VOC compliant, and safe for home disposal.
Dan Clarke, Permatex Senior Product Manager, notes, "Our new heavy duty cleaner is one of the toughest and most effective cleaning and degreasing products we've ever developed for automotive applications. It can be used anywhere in the shop. Its easy to use, saves time, and requires no prep. In a recent dwell time test, Permatex Industrial Strength Cleaner & Degreaser was able to remove 99.7% of all the oil from the applied substrate."
Key applications include: engines, transmissions, rear differentials, undercarriage, machinery, tools, workbenches, garage floors/walls, asphalt, stainless steel, chrome, and exhaust hoods.
Available in 1 gal. jug.