PFERD Quick Change Mounting Sytem for hole saws
PFERD offers a new time-saving mounting system for simple and fast change-ups of hole saws.
---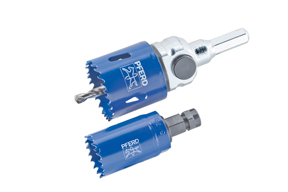 The quick change system consists of two pieces: A drive arbor that mounts to the drill; and adapters that mount to each hole saw. By simply attaching an adapter to each hole saw, the hole saw can be instantly attached to and removed from the arbor with the press of a button. This system can be used with hole saw diameters between 9/16" to 6".
The drive arbors and adapter sets are sold separately. The new Quick-Change drive arbor features a 7/16" hex shank and ships with a ¼" pilot drill. Three piece adapter sets are available in two thread pitches. Each set contains three identical adapters, allowing the user to have three different sized hole saws ready to go.