Posted March 8, 2017
PIRTEK Fluid Power Glove
PIRTEK Service & Supply Centers expanded its product line to meet the growing demands of the market with the revolutionary safety product, the 9030P PIRTEK Fluid Power Glove.
---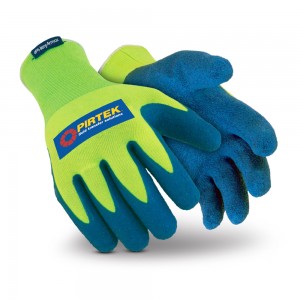 Made from the latest technology, this safety glove protects the wearer's hand against the hazards of fluid injection from high-pressure systems.
"When you're working with fluid power, particularly with equipment that exerts a great deal of pressure, there's a danger of forcefully injecting oil and other liquids directly into the skin," said Glenn Duncan, chief executive officer of PIRTEK USA. "Our new glove provides a critical layer of protection against that, and against a number of other hand injuries. It's a must for people working in industries that use hydraulics."
PIRTEK is the only franchise of its kind in the United States, providing hydraulic and industrial hose replacement sales and services. There are
61 PIRTEK franchise locations and a fleet of Mobile Service Vehicles throughout the United States. Globally, PIRTEK has more than 400 locations and 2,000 Mobile Service Vehicles in 23 countries around the world.
The glove is the latest in PIRTEK's efforts to remain sensitive to the needs of the market and provide its customers with industry-standard products. "We're the world's leading fluid transfer solutions company, and we're famous for our onsite services," Duncan said. "But we're also providing a growing array of products, available from our Service & Supply Centers. This glove is just the latest addition."
Independent laboratory testing confirms the new glove resists skin penetration by standard hydraulic mineral oil against intense pressures.
In addition, the Fluid Power Glove safeguards against needle sticks, blade cuts, tears and abrasions.
"Despite all the protection this glove offers, it's also very comfortable to wear," Duncan said. "It's designed with both safety and comfort in mind – it's really the industry standard. We're excited to be offering this product."
Made by HexArmor, the PIRTEK Fluid Power Glove's resistance to cutting is the result of a threefold layering of high-tech protective fabric. The palms are also treated with an antimicrobial coating.
The product has application in many industries, including agriculture, automotive, construction, landscaping, marine, manufacturing, mining, pressure washing, waste collection and many others.