Power Gripz leather protector gloves
The Power Gripz has announced four new additions to its growing line of high and low voltage leather protectors and work gloves.
---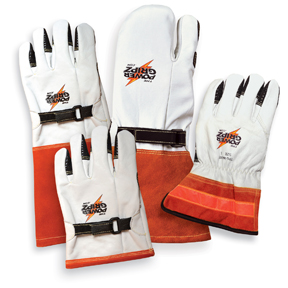 The latest line-up of new gloves being introduced this fall at industry trade shows and through national and global distributors includes:
The Mitt/three-finger Mittens with adjustable fitting straps for use with Class 1-4 Rubber Insulated Mitts in 12", 14" and 16" lengths. Available in hand sizes 9, 10, and 11.
New hand sizes for the 10" Low Voltage Protector with adjustable strap for use
with Class 00/0 Rubber Insulated Gloves including 8-8.5 and 12-12.5.
New hand sizes for The Power Gripz High Voltage protectors are now available in
sizes 8-8.5 and 12-12.5 (In addition to original sizes 9-9.5, 10-10.5 and 11-11.5).
10" Utility Work Glove - the original unlined, and the two newest work gloves,
Thinsulate® lined and Kevlar® lined/cut resistant (Category 3).
The Power Gripz line of leather protector gloves feature a unique, patent-pending grip pad innovation that highly increases the tactile gripping properties for a newer and safer generation of protector gloves not previously found on any gloves on the market.