Precision Instruments Ratcheting Breaker Bar
Precision Instruments' new Ratcheting Breaker Bar, the C4D600F36H, lets users use a ratchet head from any Precision Instruments 3/4" or 1" square drive split-beam click wrench as the ratcheting head on the handle.
---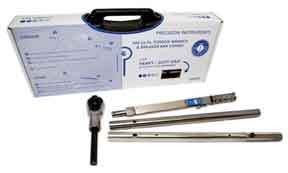 For more leverage or better reach just click the button on the knurl grip and instantly stretch the overall length from 31" to 41". This is what professionals want to have in their hands when they're freeing up a frozen or rusted fastener.
Features include:
Heavy duty knurl grip (always wear appropriate work gloves)
Push button allows the user to select desired length up to 41"
Designed to work exclusively with the detachable 3/4" or 1" Precision Instruments ratchet head
Strong enough to break free even the most stubborn fasteners
Completely manufactured at Precision Instruments from American-made steel