Posted January 29, 2018
RIDGID Press Booster
The new RIDGID Press Booster for use with Viega MegaPress XL Jaws and Rings builds on the power of the RIDGID RP 340.
---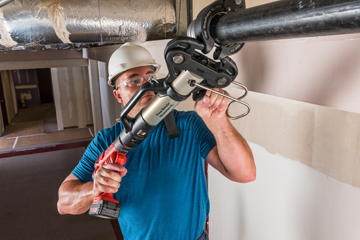 It attaches to the tool to multiply its output for fast connections on larger diameter pipe. It's the only tool on the market that lets contractors press black steel pipe between two-and-a-half and four inches, the company says.
"We heard from contractors that they wanted to leverage our current Standard Tool platform to make press connections on black pipe over 2 inches," said Marcus Borman, RIDGID global marketing manager. "The MegaPress XL Booster & Rings provide the ideal solution. The new tool will make press connections on 2.5", 3", and 4" black pipe in under 25 seconds—welding those same connections can take over 30 minutes. We worked closely with Viega to develop a program that would meet the strict demands of the contractors we serve. As market leaders in pressing, we're both truly proud to introduce yet another industry-first."
MegaPress XL makes connections in under 25 seconds, saving time and enhancing efficiency. Simply attach the booster to the end of the RP 340, press the trigger on the tool three times, and you have a secure press connection. Hard-to-reach angles are a breeze with an actuator that can rotate 180-degrees on the press ring.
Weighing less than 22 pounds and coming with built-in carrying handle and strap, the
MegaPress XL Booster is designed for portability and easy transport between jobs. The primary kit includes the XL Booster, 2.5" ring, 3" ring, 4" ring, and high quality carrying case.
After success in Europe, RIDGID and Viega introduced ProPress® to North America in 1999 and continue to have a strong partnership to this day, resulting in continuous tool innovation and design. RIDGID press tools are unsurpassed in making quick and reliable connections on copper, stainless steel, black steel, PEX and multi-layer tubing.
All RIDGID press tools come backed by the RIDGID Full Lifetime Warranty.