Radians expands RadWear rainwear line
Radians expanded its RadWear rainwear line to protect workers in a variety of conditions, including general purpose, extreme weather, and industrial protection requirements.
---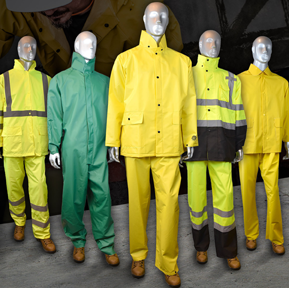 In addition to weather-related applications, the new styles are intended for applications including hazardous chemicals, food processing, and construction environments requiring high visibility. Designed with workers in mind, each style has features to keep workers protected and dry, including double heat welded seam construction that secures the seams for waterproof integrity.
Radians new rainwear additions include the:
ERW 35 — .35mm PVC/Poly economy rain suit
DriRad 28 — .28mm PVC/Poly jacket, coat, and bibs
AquaRad 25 — .25mm TPU/Nylon rain jacket and bib
DuraRad 42 — .42mm Acid Green PVC/Poly rain jacket & bib (Self-extinguishing treated polyester)
Fortress 20 — High visibility .20mm PVC/Nylon jacket and pants
Fortress 35 — High visibility .35mm PVC/Poly rain jacket, coat, and bibs
All of the new styles, with the exception of the ERW 35, have an ETP Collar that extends in the back for additional protection and is tapered in the front for wearable comfort. Other comfort and convenience features include detachable hoods, vented cape backs for comfort, hook and look adjustable cuffs, QDM snaps, etc.