Posted July 1, 2020
Radians retractable tether system
Radians entered a new protection category with the introduction of its tether ready vests and retractable tool tethers.
---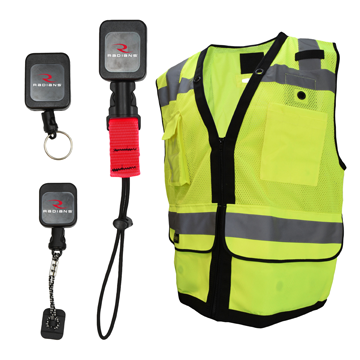 "Radians' new tether line improves workplace safety and productivity, reduces worker frustration, and saves money too because a dropped object prevention plan is less costly than the medical and legal expenses often associated with these injuries," said Bill England, Radians president.
Radians retractable tethers meet the ANSI/ISEA 121-2018 standard for dropped object prevention solutions. This standard establishes minimum design, performance, testing and labeling requirements for solutions that reduce dropped objects incidents in industrial and occupational settings.
According to the ISEA, "Struck-by falling objects kill hundreds of individuals each year and injure tens of thousands more." OSHA reports that "on average, nearly 140 people are 'Struck by A Falling Object' every day in the US."
"Our unique integrated system will play a significant role in workplace safety. Not only does our system prevent objects from dropping but the tethers and tools are securely contained in heavy-duty grommeted anchor pockets inside the vests when tools are not in use. This prevents the tether from entangling," said Dave Larimer, VP of Industrial Sales.
The new line includes a heavy-duty and a multipurpose surveyor vest, eight Made-in-the-USA retractable tethers, and a tool lanyard attachment accessory for tool changes. The tether system can accommodate pencils and pens, cell phones, tablets, hard hats, tape measures, small radios, and tools up to two pounds.