Posted August 15, 2019
Radians expands RadWear color-blocked apparel line
Radians has expanded its RadWear apparel line with styles that include black color-blocking.
---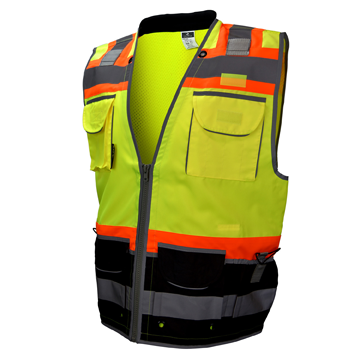 "Black color-blocking is a trend driven by both function and style. The black detail is very functional, concealing dirt, stains, and grime, while improving the vest's wearability and time in service," said Nicole Novick, high-visibility product manager. "Color-blocking also enhances the aesthetic of a safety vest without compromising worker visibility. Thus, engineers, contractors, and professionals often gravitate to the style because it projects a more professional image."
Radians recently launched two new color-blocked heavy-duty engineer vests: the SV55B and the SV66B. Both vests are rated Type R Class 2 and are excellent choices for those who require durable, professional looking vests with lots of functional features.
The SV55B is based on the SV55, one of Radians' bestselling two-tone engineer vests. It has many of the features of the SV55, such as a heavy duty #8 zipper closure, padded neck, dual mic tabs, and 12 pockets, including a plan pocket for blueprints or other large documents. The SV55B has the black detail at the bottom of the vest and in the chest area.
The SV66B, priced lower than the SV55B, has contrasting black trim at the bottom of the vest, nine pockets, including a plan pocket, dual mic tabs, and grommets at neck for tool keepers.
The RadWear color-blocked apparel line includes vests, T-shirts, and winter gear:
• SV6B-2 Surveyor Vest
• SV59B-2 Heavy Duty Surveyor Vest with Zipper
• SV7B Surveyor Vest
• SV3B Economy Vest
• ST11B Short Sleeve T-shirt
• ST21B Long Sleeve T-shirt
• SJ110B 2-in-1 Bomber Jacket
• SJ11QB Quilted Bomber Jacket
• SJ410B 3-in-1 Weatherproof Parka
• SJ210B Deluxe 3-in-1 Bomber Jacket
• SJ01B-3 Hooded Sweatshirt with Zipper
• SJ02B-3 Hooded Pullover Sweatshirt
• SJ03-Ripstop Quilted Windshirt