Radians respirator wipes & lens cleaning towelettes
Respirators, safety glasses, and other PPE become ineffective when they are soiled with smudges, grease and grime.
---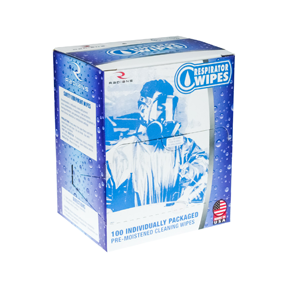 Now you can conveniently and economically wipe away grease and grime with Radians' new respirator wipes and lens cleaning towelettes which are made in the USA.
Radians, a leading manufacturer of high performance safety gear, recently launched their new respirator wipes (RW-100), including an alcohol free version (RWAF-100).
Both the 5" x 7" respirator wipes and lens cleaning towelettes are individually wrapped in foil packets and are packaged in easy-to-use boxes of 100. The boxes have a perforated hang tab that allows for mounting on both pegboard hooks and standard counters. These cleaning accessories can be strategically placed in high traffic areas to facilitate proper cleaning behaviors among workers in the plant or office. Their specially developed formula will help keep PPE crystal clear.