Posted November 20, 2017
Radians Kamori white grain goat skin gloves
Radians recently launched three new Kamori by Radians white grain goat skin driver gloves, the RWG50, the RWG51, and the RWG52.
---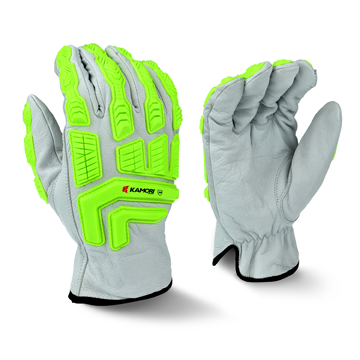 Both the RWG50 and RWG52 have been tested to an ANSI Cut rating of A4 and an EN388 cut rating of 5. They both feature an ergonomic keystone thumb, aramid lining, and a slip-on cuff. Additionally, the RWG50 features dense, yellow-green TPR overlays on the back of the hand for added abrasion resistance and impact protection.
"Although soft, supple, and lightweight, goat skin has a high tensile strength and abrasion-resistant qualities," says Bob Kelsey, glove product manager. "Thus, our new goat skin drivers are tough, durable, comfortable, flexible, and dexterous, while maintaining outstanding sensitivity."
Both the RWG50 and RWG52 can be used in a variety of applications, including oil and gas, construction, demolition, farming, glass handling, lumber, sheet metal, and more.
Radians' new Kamori line also includes an impact resistant glove without the aramid lining called the RWG51. "According to Kelsey, the RWG51 gives safety professionals and workers a goat skin impact resistant option without the added expense of an aramid lining for cut protection."