Posted December 20, 2018
Radians RadWear vests
Radians recently launched five new RadWear vests with high-visibility features and black styling.
---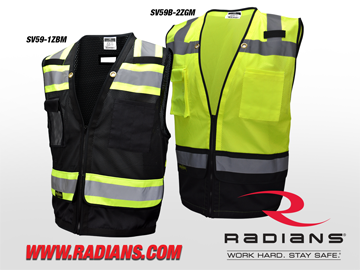 Radians new selection hides dirt and grime in areas that commonly show signs of soiling. Traditionally, Hi-Viz Safety Gear is made completely with fluorescent materials that enhance the view of the worker at a distance. These conventional styles also hold dirt and stains diminishing the fluorescence and the time in service.
"Radians' newest styles with black color blocking conceal signs of a dirty environment and enhance the worker's professional appearance without compromising visibility. Whether the worker needs Type R or Type O, these styles offer compliance and features to meet the needs of the workday while obscuring dirt and prolonging the life of the garment," said product champion Nicole Novick.
The five new styles are listed below with their ANSI 107-2015 rating:
• SV6B-2 Type R, Class 2 two-tone surveyor vest
• SV22-1ZBM Type O, Class 1 economy two-tone vest
• SV55-1ZBD Type O, Class 1 two-tone engineer vest
• SV59-1ZBM Type O, Class 1 heavy duty surveyor vest
• SV59B-2 Type R, Class 2 heavy duty surveyor vest