Razor-Back Fiberglass Striking Tools
Razor-Back tools are built tough to withstand the most difficult jobs and some of the harshest working environments.
---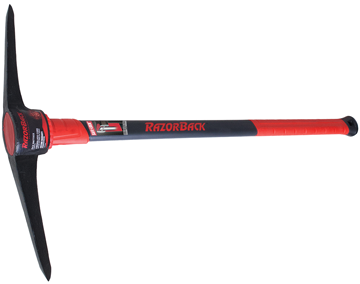 After extensive research, Razor-Back's product development experts determined that the most important areas for improvement—according to landscape and construction professionals—are safety, durability and ergonomics. To address these concerns, the new line of fiberglass striking tools improve upon the most common issues experienced with sledgehammers, pick and cutter mattocks and wood-splitting mauls, such as head-to-handle connection, handle breakage and handle grip control.
The patented Safe-Lock technology uses a steel-anchored connection between the fiberglass handle and head for maximum security and head retention. The line also features ergonomic, baseball bat-shaped handles with textured, non-slip grips for improved control, three-layer overstrike protection and fiberglass-reinforced lanyard holes.