Posted April 1, 2020
Rex Cut Zirconia mounted points
Rex-Cut Abrasives announced Velocity Mounted Points, a new solution for fast stock removal on small or hard to reach work areas.
---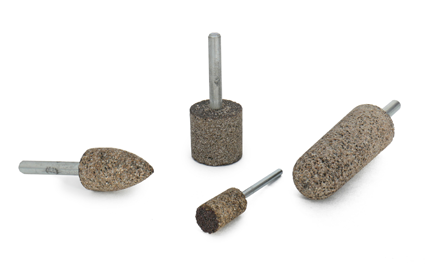 Velocity Mounted Points are constructed with a zirconia alumina and aluminum oxide grain blend in a resin bond. These rugged points are suitable for grinding stainless steel and other heat sensitive materials. The premium grain and hard bond blend give Velocity Mounted Points long life and excellent performance on ferrous and non-ferrous metals.
Velocity Mounted Points are the latest addition to Rex-Cut's popular line of Mounted points and can be used for more aggressive applications such as weld grinding, rapid stock removal, heavy deburring, tool sharpening, and more.
"Our new points remove on average 48 percent more stainless steel than similar products in the market," said Bob Costa, president of Rex-Cut Abrasives. "Providing products that minimize time spent grinding welds is our goal."
Velocity Mounted Points are available in 11 different shapes and two different grits.
30 grit: A1, A3, A11, W189, W197, W208, W220, W221, W222 shapes
36 grit: W164 and W179 shapes.