Posted October 31, 2016
Rockford Systems draw bar cover
Rockford Systems has launched a new Milling Machine Draw Bar Cover (part #DBC001) to protect vertical mill workers from rotating shafts seven (7) feet or less from the floor or working platform.
---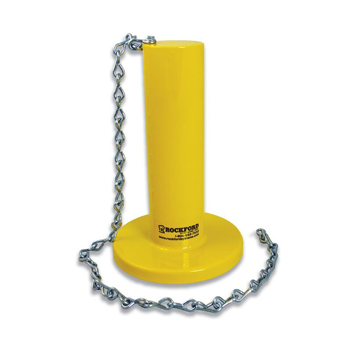 It guards the turning draw bar with a non-rotating, smooth, welded-steel enclosure, secured firmly to the mill with a powerful ring magnet and safety anchor chain. Simple to install, the draw bar cover prevents clothing, hair or hands from being grabbed by the moving shaft.
According to Jason Swisher, Rockford Systems Production Manager, "Our new Draw Bar Cover features high-quality construction with smoothed welding seams and finished edges, designed to protect mill workers from hazardous rotating drawbars. It was engineered with input from machine makers and operators to ensure that it gets the job done right."
This product can be used on any vertical mill that has up to a 7" extrusion. It compliments the full line of Rockford Systems milling machine guards, shields and controls that protect thousands of workers everyday around the world.
Installation of the Draw Bar Cover helps machine shops comply with the OSHA 1910.219(c)(4)(i) safety standard that states: "Projecting shaft ends shall present a smooth edge and end and shall not project more than one-half the diameter of the shaft unless guarded by non-rotating caps or safety sleeves."
Lack of machine guarding or improperly installed safeguarding equipment was one of the top ten most cited OSHA violations in 2015, resulting in millions of dollars in fines levied against businesses. Injuries, as a result of improperly safeguarded machines, also lead to higher insurance costs, lawsuits, and hospital expenses. Although safety equipment and proper machine controls are required by OSHA, many manufacturers sell machinery without either, leaving the business with the responsibility of safeguarding the machine.