Ruland beam couplings for motors
Ruland beam couplings are designed to couple stepper and servo motors to encoders, lead screws, and light duty actuators in a variety of industries.
---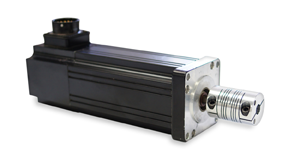 They are zero-backlash, have high torsional stiffness, accommodate all forms of misalignment and have a balanced design creating a highly accurate and flexible coupling.
Stepper and servo driven systems benefit from the multiple beam design of Ruland couplings. They consist of two overlapping spiral cuts to increase torque capabilities and torsional stiffness when compared to the commodity style single beam coupling. Separating the spiral cuts into two sets gives the coupling better parallel misalignment capabilities while easily accommodating angular, complex, and axial misalignment.
Ruland beam couplings are available with four or six beams in inch, metric, and inch to metric bore combinations ranging from 3/32" (3 mm) to 3/4" (20 mm). Four beam couplings are more flexible with lower bearing loads and are ideal for encoders while six beam couplings feature a larger body size with shorter spiral cuts to provide increased torque capability, repeatability, and torsional stiffness. Ruland manufactures beam couplings in 7075 aluminum for improved flexibility and low inertia or 303 stainless steel for higher torque capacity.
All Ruland beam couplings are designed and manufactured in our Marlborough, Massachusetts factory. They are made from select North American bar stock and utilize metric fastening hardware that tests beyond DIN 912 12.9 standards. Beam couplings are RoHS2 and REACH compliant.