Posted November 17, 2021
Ruland disc couplings
Ruland disc couplings are zero-backlash, have high torque and torsional stiffness, and can accommodate all forms of misalignment, making them well suited to the requirements of test, measurement and inspection systems.
---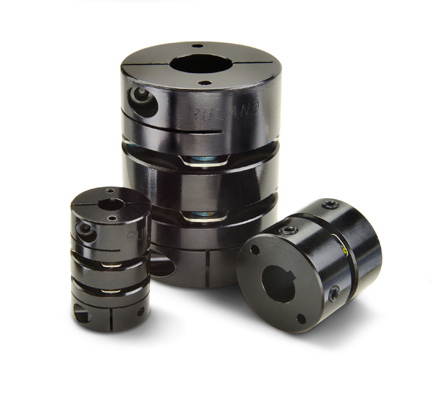 Single and double disc styles are available, allowing the designer to tailor coupling performance to application requirements.
Disc couplings are comprised of two anodized aluminum hubs and multiple thin flat stainless steel disc springs. Single style disc couplings mate the hubs directly with the disc springs. Their short length makes them ideal for applications with space constraints, but they cannot accommodate any parallel misalignment. Designers must ensure that misalignment can be tightly controlled to use a single disc coupling. Double styles are manufactured with a center spacer made from anodized aluminum for high torque or acetal for electric isolation. This design allows the two sets of disc springs to operate independently from each other for accommodation of all forms of misalignment. Electrically isolating options are important for some test, measurement and inspection systems where electrical transmission from the motor to the ball screw, lead screw or gearbox could cause errors in data readings or have other negative impacts on the system.
Disc couplings have similar performance characteristics to bellows couplings with slightly less torque in exchange for better misalignment capabilities. They have a balanced design capable of speeds up to 10,000 rpm without excess vibrations that can compromise readings in test, measurement and inspection systems.