Rust-Oleum LeakSeal Self-Fusing Silicone Tape
Rust-Oleum Industrial Brands has introduced LeakSeal Self-Fusing Silicone Tape – a silicone repair tape that conforms to any surface to provide a water-tight seal.
---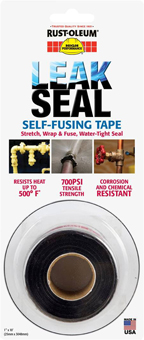 LeakSeal Tape exhibits self-fusing technology by creating an air-tight bond. LeakSeal does not stick to the substrate to which it is applied but rather fuses with itself. It demonstrates extreme strength by withstanding 700 PSI, is extremely resistant to temperatures that range from minus 85 degrees Fahrenheit up 500 degrees Fahrenheit, and can withstand most solvents, acids and oils.
The tape is very easy to apply. Simply dry the substrate that needs repair, hold the tape firmly on the problem area, stretch and apply the tape overlapping each layer by half an inch. Cut the tape once finished and press firmly in place. LeakSeal Tape is easy to remove and leaves no sticky residue.
"LeakSeal Tape is a very versatile product," said Rust-Oleum product manager Kelly Markle. "It's perfect for fixing leaky pipes and hoses or for insulating frayed electrical wires. Unlike other tapes on the market, this product goes unmatched in heat, corrosion, insulation and pressure resistance. It's a must-have for every commercial or industrial facility."
LeakSeal Tape is available in 10 foot rolls in Black and Opaque.