Rust-Oleum Industrial Lubricants and Cleaners
Rust-Oleum Industrial Lubricants and Cleaners are high-performance sprays specially formulated to provide long-lasting lubrication and asset protection.
---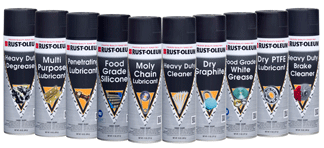 The Rust-Oleum lubricant line includes products most commonly used for everyday equipment and machinery maintenance: Multi-Purpose, Penetrating, Silicone, Dry PTFE, White Lithium Grease, Moly Chain and Graphite. The products are designed specifically for applications ranging from rusted parts, stuck threads and fittings to conveyors, chains, cables, gears and bearings. Each product is designed for a specific set of uses which are conveyed by the product name and packaging graphics.
The cleaning products include a Heavy Duty Cleaner, Degreaser and Brake Cleaner and are extremely effective at removing contaminants such as soil, grime, grease, diesel, adhesive gum and more.
"Rust-Oleum's expansion into lubricants and cleaners was a natural one," said Bob Stanley, product manager for Rust-Oleum Industrial Brands. "Our customers already think of Rust-Oleum as the leader in rust prevention, and now we can offer complete asset protection."
The majority of Rust-Oleum Industrial Brand Lubricants and Cleaners feature an any-angle spray tip that sprays in any direction for uninterrupted application, industrial-sized cans and NSF registration for key food grade lubricants.