Posted May 11, 2020
Kresto Cherry Wipes
SC Johnson Professional Kresto Cherry Wipes are super heavy duty hand cleansing wipes formulated with toxicologically safe solvent-based cleansing ingredients that remove a broad spectrum of contaminants.
---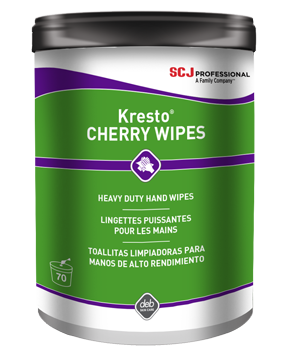 The tough, dual-sided extra-large wipes remove oil, grease, paints, sealants, resins and general grime without the use of water.
Kresto Cherry Wipes are ideal for quick cleansing at the worksite or for mobile workers when handwashing facilities are not available. The wipes are formulated with a cherry fragrance that neutralizes petroleum odor on hands. The product leaves hands smelling fresh and feeling smooth after use.