Posted October 16, 2019
RM inserts added to CoroCut QD program
Sandvik Coromant is adding round geometry (-RM) inserts to its program of CoroCut QD parting-off and grooving tools.
---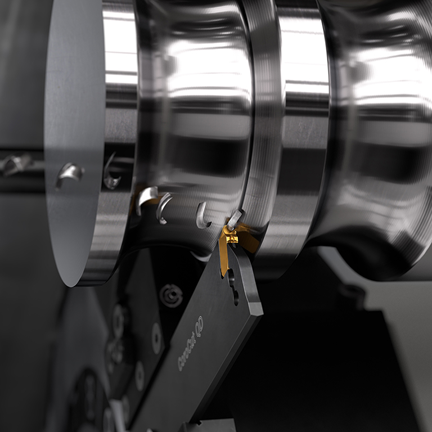 Round geometry enables profiling with long overhangs in narrow grooves, while further applications include external profiling, the generation of recesses and undercuts, and the potential to use non-linear turning and grooving with a full radial bottom.
"The features and benefits of using round geometry inserts with CoroCut QD holders include better tool life and chip control with a rigid insert seat, internal over and under coolant for improved process security and chip evacuation, and the potential for use with a Y-axis blade," explains Dr. Angélica González, Global Product Manager for Turning tools at Sandvik Coromant.
A customer case example aptly demonstrates potential gains. A shaft made from 42CrMo4 alloy steel required grooving operations on a Niles-Simmons N30 CNC lathe. Using a CoroCut QD holder with -RM geometry inserts in place of a competitor's solution saw tool life doubled with far better chip control. The cutting data was identical for both tools: 290 rpm spindle speed; 160–180 m/min (525–591 ft/min) cutting speed; 0.3 mm/rev (0.012 in/rev) feed rate; and 2.7 mm (0.106 inch) axial depth of cut.
Three grades are available for the inserts. The GC1125 grade is ideal for finishing in all materials, as well as certain roughing operations in non-ferrous metals, heat-resistant super alloys (HRSAs) and titanium, while the GC1135 grade is first choice for roughing in stainless steel and HRSAs. Also on offer is the GC4335 grade for roughing steel and cast-iron workpieces. The assortment is available in four insert sizes: 3, 4, 6 and 8 mm (0.118, 0.157, 0.236 and 0.315 inch).