CoroMill 745
Offering high productivity and a low cost per edge, the CoroMill 745 has a double-sided, multi-edge design that is ideal for large batch productions.
---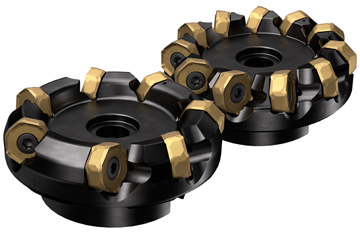 With its tilted insert positioning system and sharp cutting edges, this milling cutter offers a light cutting action at low power consumption.
With a total of 14 cutting edges per insert, the CoroMill 745 is a cost-efficient choice for face milling. The assortment includes three pitch versions. The differential pitch design of the MD pitch is best when vibration is a factor and is radially compensated to ensure equal chip thickness for every insert. The M pitch is best for general applications and the H pitch has a higher number of teeth making it the best choice for higher productivity. The M and MD pitch both have the same number of teeth.
Designed to make insert indexing quick and easy, the unique insert positioning system in the tip seat and heptagonal insert design keep the inserts securely in the pocket when mounting. The inserts are tilted in the tip seat to create a positive cutting action. Inserts geometries and grades are available for steel and cast iron materials. For roughing to semi-finishing applications, the strong and light cutting inserts provide reliable face milling in all types of milling machines.
According to Matts Westin, Global Product Manager for Milling, "You might see other multi-edge concept milling cutters on the market but none have the performance of the CoroMill 745. The science behind it is impressive. The unique double-sided, multi-edge insert design has 14 positively tilted cutting edges which are spaced out at different positions resulting in a milling cutter that is quiet and soft. For our customers, that means that they get a highly-productive milling cutter, increased tool life at a lower cost per component."